Soundstalker - Mercury Predictions
So tomorrow the nominations for the Mercury Prize 2011 are released.
The Mercury Prize is probably the most prestigious/highly regarded music award offered in the industry. With only British acts being entered, the prize aims to promote the best albums of the year which you may have just missed.
So I thought I'd have a gander at who I think will be on tomorrow's list and possibly the winner- shamefully there is a going to be a bit of bias on this list(and some who i highly doubt will make the cut-there's also a lot of money which goes into entering the Mercury, so that deters some artists)- but I just couldn't care less if Adele won, so lets hope for one of these class acts:

ANNA CALVI
With blossoming electric guitars sounds, a la Jeffy Buck, and lush alluring vocals, Anna Calvi made a impact with her self titled debut. Each track is carefully thought out, with the music telling the narrative just as much as the lyrics- Right up Mercury ally.

WILD BEASTS
Last year Wild Beasts's 'Hooting and Howling' made the shortlist- and was a strong contender for the prize itself. This year Wild Beasts return with a more refined sophisticated sound.

KATY B
This debut exhibits the true talent and interesting direction Katy B is taking dance music in, fucking all over Jessie J. Clean cut vocals with a danceable base- Of the single lettered surname rivals, B is definitely before J.

JAMES BLAKE
James Blake is deserving to be on the Mercury shortlist. He has opened up the eyes of many to a more general minimalistic electronic-dub sound which is slipping into the mainstream. Sadly to me he is James Boring. If i hear another looped echoing mantra about brothers and sister, i will burn my earphones.
James Blake- Wilhelms Scream
WU LYF
I developed a fairly crazy obsession with the WU LYF hype before they released their debut, 'Go Tell Fire To The Mountain'- so there's a fair bit of favourite here. I don't think they'll make the list, but I'd love to see them there. 'Go tell Fire..' was a fantastic all round album, unique and interesting above all.
THE HORRORS/CAT'S EYES
The Horrors, and Faris Badwan's side project, Cat's eyes, are both in the running for
Mercury. The Horrors continue to reinvent themselves with a more weird psych-rock-pop sound in 'Skying', while Cat's Eyes modernized and popularized the small 60's girl group sound.
EMMY THE GREAT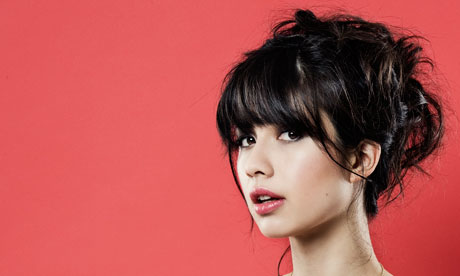 From all the albums released this year this has to be my favorite. Sadly I don't think we'll be seeing 'Virtue' on the Merc Shortlist, but in my eyes this album outshines the rest. Folk-pop with interesting concepts and a real sense of honesty, i couldn't help but to be moved by this one.
Overall I'm going to put my money on Anna Calvi or Wild Beasts, though the prize is notoriously surprising, so maybe Emmy has a chance! Also there is the likes of PJ Harvey's,'Let in England Shake'(But really win the prize twice??), of course Adele(But she's practically as big as Gaga and wouldn't need the funding), and the interesting rap(if you call it that) of Ghostpoet, which could be very possible.
STALKER